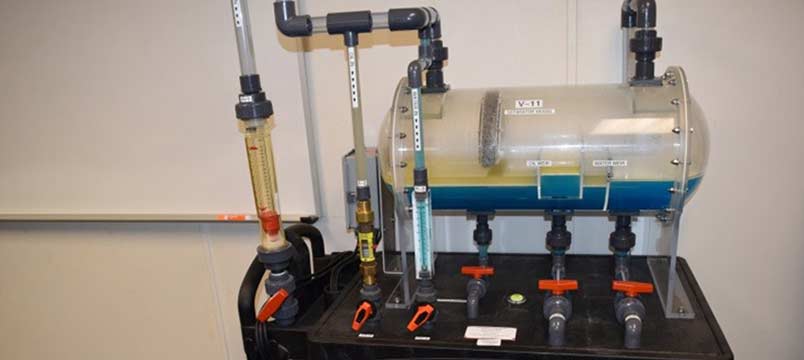 Basic Production Technology
This course is designed to provide a basic understanding of the oil and gas production operations as applied to the offshore oil and gas industry. Beginning with the reservoir, the hydrocarbon process is described and illustrated to provide information about the producing well, flowlines, headers, fundamentals of separation and process vessels and equipment necessary to reach point of sale and water disposal. Artificial lift, secondary recovery and gas compression are covered to the extent of awareness and basic integration into the production process. Participants will partake in a practical exercise involving interaction with a three-phase separator acrylic model. They will also be shown various cutouts of commonly used production equipment in our on-site production facility.
Topics Covered
Provide knowledge of wells, wellheads, rate control, flowlines, headers, and process equipment.
Understand the physical properties of a flowing oil and gas well, identify wellhead components, and understand function.
Understand the function of a flowline choke, flowline, and header.
Comprehend the fundamentals of separation and the internal arrangement of two and three phase separators.
Understand staged separation, basics of process instrumentation, and division of produced fluids in oil, gas, and water process trains.
Learn basic operation of heater treaters, basic operation and difference of positive displacement and centrifugal pumps, and basics of pipeline pigging operations.
Understand basic operation of water polishing vessels and basic test separator operation.
Overview oil and gas measurement, gas compressions, gas dehydration, artificial lift, and secondary recovery.
Course Details
Duration

3 Days

Start Time

7:30 am

End Time

4:00 pm

Prereqs

None

Certificate

Yes

OSHA Compliant

N/A
Upcoming Courses
Back to course listings
Contact Us
If you have any questions, or would like a full course description emailed to you, please contact Cindy.
337-237-9486
---
Book This Course