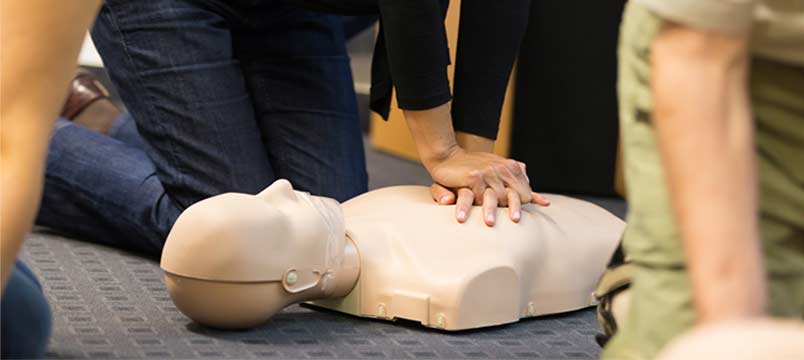 MFA/CPR/AED/BBP
This course is designed to teach participants the proper use of adult medic first aid basic (MFA), cardiopulmonary resuscitation (CPR), an automated external defibrillator (AED), and bloodborne pathogen (BBP) awareness in the workplace. It will help employees meet OSHA and other federal and state regulatory requirements. Participants will receive practical training in learning the procedures to perform CPR with the use of adult manikins, as well as the operation of an AED in the class. Face shields, pocket masks, gloves, bio-hazardous spill kits, and other resources are shown and discussed. Another practical exercise provides a simulated exposure to potential pathogens and shows how to minimize the exposure through the use of PPE and a proper decon procedure.
Topics Covered
Ensure employees can respond to a workplace accident with first aid, CPR, and if necessary, an AED.
Recognize and understand how to react to a heart attack, choking, bleeding, shock, burns, eye injuries, bites & stings, poisoning, diabetic emergencies, stroke, seizures, and temperature extremes.
Keep an injured person safe from further injury until medical help can arrive.
Understand the operations of an AED and how to use one.
Learn about what bloodborne pathogens are, how they affect us, and what procedures should be followed to prevent and handle exposure in various scenarios.
Course Details
Duration

Half Day

Start Time

7:30 am

End Time

12:00 pm

Prereqs

None

Certificate

Yes

OSHA Compliant

Yes
Upcoming Courses
Back to course listings
Contact Us
If you have any questions, or would like a full course description emailed to you, please contact Cindy.
337-237-9486
---
Book This Course